Black Plant Humidifier
Regular price
Sale price
$35.99 NZD
Unit price
per
Do you have any questions? Visit our FAQs page or Contact us
Description

Maximise the health of your houseplants with our black plant humidifier. Designed to provide optimal humidity levels, these humidifiers will keep your indoor plants happy and thriving. Whether you're a seasoned green thumb or just starting out, our range of plant humidifiers is easy to use with features such as a timer, coloured lights, and various other settings for customised plant care. So, give your indoor plants the boost they need and try one of our plant humidifiers today.

 

How to set it up

Firstly, decide where you want to put your Plant Humidifier and find a suitable place to add it such as a bench or shelf amongst your houseplants. 
Next, fill the device with up to 300mL of cool water.
Now, simply plug the it in, choose your settings and watch your plants grow!

 

Are there different settings?

Yes absolutely, this Plant Humidifier has multiple different settings to suit all your different needs. 

1. Timer: set the mist to be on for 4 or 6 hours at a time

2. Colour: 2 modes to choose from, a rainbow mode and solid light mode, or have no light at all

3. Pattern: you can choose to have either a constant stream or intermittent intervals

  

Product care 

Our Plant Humidifiers are super easy to maintain - just wipe them down with a damp cloth every now and again. Of course, make sure that the plug doesn't get any water on it.

 

Details

Material - Plastic

Size - 8cm x 12cm 

Colour - Black and White

Volume - 300mL




Are you looking for other accessories to decorate your houseplant collection? check out our range of indoor plant pots!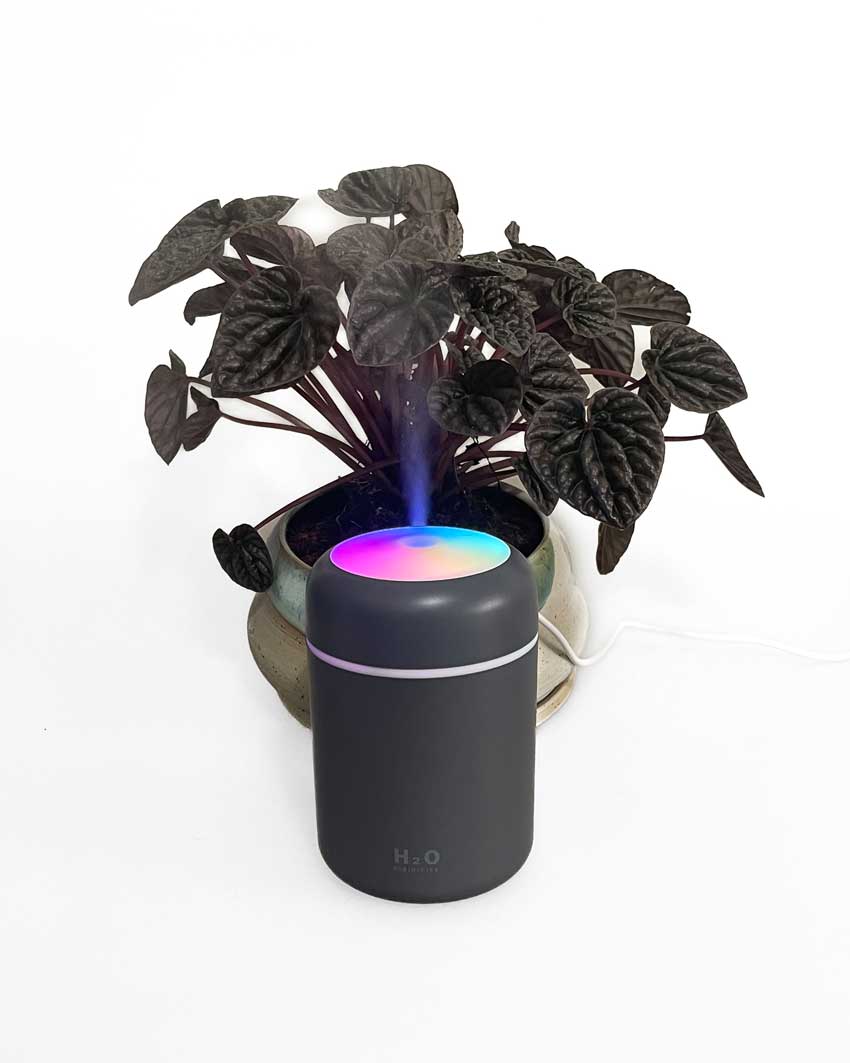 Not what was described. Must be plugged in to worked. Mine came in white not black.
Better than I imagined
This humidifier is full of features. It lasts for hours and the colourful lights on top are very cool. Great product.